In response to zero public demand, here's a sort-of account of my Paris-Brest-Paris in 2019. This was my fourth PBP, but the first since 2007.
You may have read quite a few accounts of PBP 2019 by now. The normal account proceeds in an orderly fashion from soup to nuts. This, however, is more like one of those modish small-plate restaurants where dishes arrive haphazardly, at the whim of the chef. Except it's alphabetical. It's a small-plate restaurant serving alphabetti spaghetti, with flambéed flimflam. So take your seats for the ABC of PBP.
I had a plan for PBP. To be more accurate, I had George's plan for PBP. It was an impressively detailed spreadsheet, with gradually diminishing average speeds, times for passage through controls based on past experience, and allowance for sleep stops. It added up to a 78-hour PBP, which George described as "taking it easy."
Hmm… This looked a bit ambitious for me. I said as much. George just smiled into his bushy PBP beard.
Plan A begins well enough. I've been expecting a group mass start, but the rigmarole of card stamping and riding over the start mat, combined with the narrow, stony track out of the Bergerie Nationale, means that riders emerge onto the road through the forest in a trickle rather than a flood.
George, intent on finding a comfortable group to hide in, winds up the pace and begins reeling in the straggle of riders. I focus on wheelsucking shamelessly. After a few kilometres we catch a small group that seems okay. Not too twitchy, at first glance.
First impressions aren't always accurate. The pace gradually picks up, and each acceleration triggers nervy manoeuvres as riders jockey to stay in the group. At the top of a small rise someone cuts in front of me just as I'm shifting back onto the big ring. I stop pedalling for just long enough to drop the chain. And swear.
It takes only seconds to get the chain back on, but by then I've lost the group. And, it soon transpires, found the headwind. Time for Plan B. Do I have a Plan B? Not really.
I convene a meeting of the planning committee. After brief but vigorous internal debate, Plan B is passed: 1) Keep ahead of the bulge for as long as possible; 2) Stay out of trouble; 3) Pedal!
The flaw in Plan B soon becomes clear. To stay ahead of the bulge, you need either to outpace your fellow riders or to stop less. A tall order for a thirsty trundler who likes his sleep.
It was in Sizun on the outward ride that I formally accepted my status as a small protuberance on the greater bulge.
A wise old randonneur once told me never to ignore even the most minor physical niggle on a long ride but to try to deal with it as soon as it arises. As an unwise old randonneur, I can attest from personal experience that this is sound advice. So naturally I ignored it when, soon after Tinténiac on the return, it came to my notice that things were slightly sub-optimal in the shorts department. By the time I stopped to check things out, maybe 15 minutes later, production of Revenge of the Gusset, the latest instalment of the Saw franchise, was in full swing in my shorts.
I shunned coffee for a couple of weeks before PBP in the hope of turning it into a performance-enhancing drug during the ride. Well, I drank decaf, but that isn't coffee. And tea, but that isn't coffee either, obviously.
My first PBP coffee came in the small hours of Monday morning, between Mortagne and Villaines, to the chagrin of the small international band of admirers who'd been glued to my back wheel for the last 45 minutes. I lurched into a bar and necked a grand café crème. While waiting for the caffeine to kick in, I chatted to an American rider: The standard semi-serious "I'm too old for this shit" conversation.
My second PBP coffee came in the slightly larger hours of Monday morning, at the Villaines control.
My third PBP coffee came in a bar about 300 metres after the Villaines control, once I realised that the second coffee had merely been brown liquid masquerading under false pretences. After that I mostly abandoned drinking control coffee. The good stuff was to be found in bars and roadside stands.
I will draw a veil over Tinténiac and the Great Coffee Disaster of Wednesday morning. Sorry, monsieur, we have no coffee. Please have this bowl of lukewarm water and this teabag. Sorry, monsieur, we have no milk.
I knew it would be cold at some point on PBP. It always is. I pondered taking my insulated gilet, but opted against it when the weather forecast consistently predicted a toasty low of around 8 degrees near Brest. Idiot! It's best to be looking at it rather than for it, whether "it" is warm clothing, a low gear, or an emergency banana.
The fog-shrouded climb through the Huelgoat forest and up Roc'h Trevezel quickly had me wearing all my clothing. Frost formed on my upper slopes. But the climb was balmy compared to the descent to Sizun. My hands froze, to the point where I could barely brake, and shivering made the bike hard to control. I staggered into a bar to drink coffee, eat pastries, thaw out, and doze until sunrise chased off the freezing mist.
The agricultural plain around the last control is often another cold spot. On the last night cold, combined with a need for caffeine to stave off the dozies, drove me into a bar in Neuilly-sur-Eure. Glazed randonneurs slumped in chairs, oblivious to the throbbing music and illuminated only by the shifting colours of the backlit panels in the bar. After a psychedelic few minutes my scrambled brain urged me back into the cold.
This time my first exposure to the darker side of PBP came before the halfway point, a lot earlier than I was expecting. On an ascent on the approaches to Brest I found myself gaining on a French rider who was proceeding in a series of jerky semicircles since the left side of his body seemed to be collapsing. Amid heavy traffic, he clipped a roundabout and fell into the road, but remounted before I could reach him and plummeted semicircularly down the hill at a speed I couldn't match without recalibrating my peril sensors.
The recumbents have been breeding since my last PBP. It was odd to find the occasional velomobile travelling at ordinary speeds instead of dwindling into a dot in the distance. It was odder to find several riders attempting PBP on fat bikes. Personally, I find being a fat rider is enough of a challenge without adding a fat bike into the equation.
A special shout-out to the couple on the Hase Pino, a machine that ticks all the wrong boxes for an event like PBP.
At Dreux I ran into Eddie Dunne, a force of nature aboard a classic French randonneur bike I knew from the Celtic Knot. He insisted we ride the last stage together. It's hard to say no to Eddie. Indeed, he was now so hyped it was hard to say anything to Eddie. We arranged to rendezvous in a few minutes by the door—the process of making these arrangements required many of my remaining brain cells—and I went off to join the last loo queue of PBP.
I returned to the rendezvous. No sign of Eddie. I waited a few minutes. Still no sign. I decided to head back out to the bike park, and ran straight into Eddie. "Where were you?" he said.
We set off, chatting about our PBP experiences. After possibly as long as a couple of minutes he announced "I need a coffee" and veered off towards a bar-tabac. Bye Eddie.
This was my fourth PBP. On the plus side, I knew what I was in for. On the minus side, I knew what I was in for too.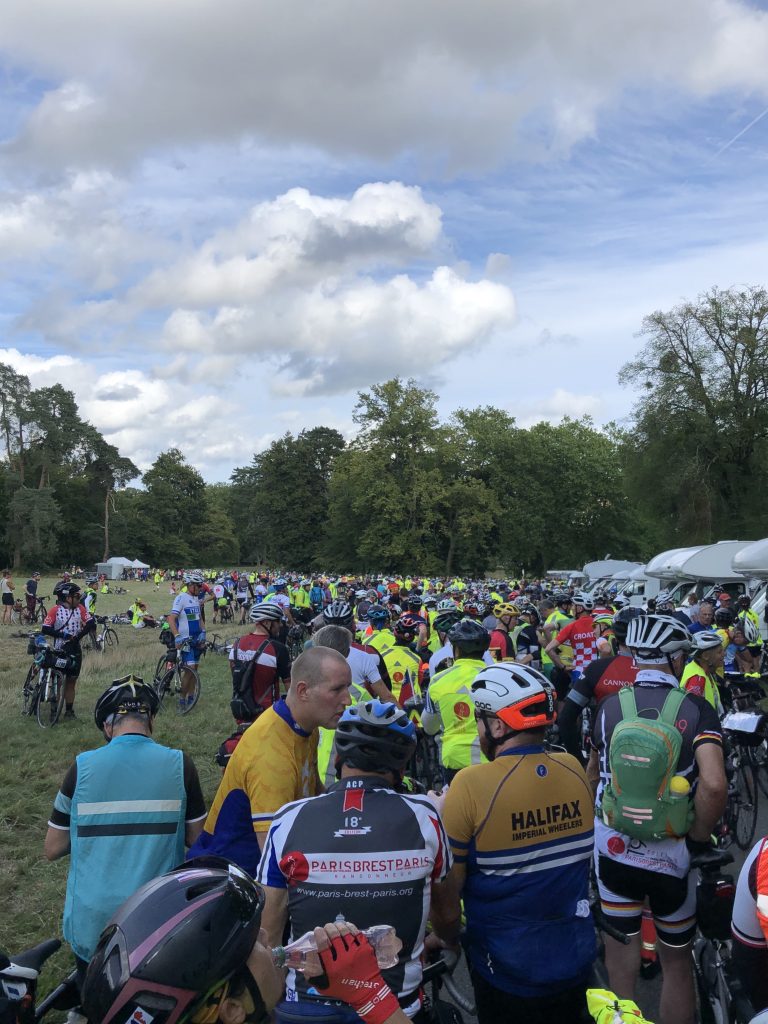 I'm still not entirely sure where the official finish was, though I appear to have reached it. There was an arch, there was a mat, there was a circuit of a cobbled courtyard (oh, goody, says my arse), and there was a desk where you handed in your brevet card.
By the time you'd done that lot, you were properly finished.
My guiding principle when it came to food was simple: If it's there in front of you right now, grab it and cram it down your gullet. This meant a lot of baguettes, soup, and rice salads.
Several of the controls had local beer available. It would have been rude not to take up the offer…
George continued to play a part in my PBP even after he vanished down the road, taking Plan A with him. His new role was to send encouraging—but not necessarily factual—text messages. He seemed to sense when I needed motivating. Maybe the flurry of tetchy texts I sent after suffering in the heat between Fougères and Villaines was a clue.
There was a nagging headwind all the way to Brest. On the way back the headwind mostly confined itself to carping occasionally. Like me.
From Brest to Loudéac I went full Fotherington-Tomas. Hello clouds. Hello sky. Hello trees. Hello hills. Hello randonneurs of many nations. I was wet and a weed, and fried on endorphins.
It didn't last.
This iteration of PBP was officially 6.9% hillier than the last. My legs maintained that this was an underestimate. However, my legs were 18.8% older than they were on my last PBP, so their judgment may have been skewed.
I snacked on ibuprofen the whole way round to keep Mr Stabby at bay. At Villaines on the return I bought some ibuprofen gel to deal with the exciting new bonus pain in my wrist that had appeared out of nowhere. The pain, that is, not the wrist. I just about managed to resist the impulse to slather ibuprofen gel over my entire body.
You know the "One song to the tune of another" segment on I'm Sorry I Haven't a Clue?
It's a—mercifully—little known fact that, with minor modifications, Lewis Carroll's "Jabberwocky" fits the tune of "Jerusalem."
I apologise to anyone who heard me demonstrating this during the long night hours on PBP. The post-traumatic stress will pass eventually.
No matter what languages you can speak at the start of PBP, jibber jabber is all that's left by the finish.
Like the Cheshire Cat, Mel Kirkland and his grin have the knack of materialising out of thin air. He appeared frequently on my PBP, at controls and between them. He popped up at my shoulder during the night ride from Loudéac to Tinténiac, as usual complaining (grinningly) of not going too well before dematerialising down the road.
On his next appearance it turned out that he'd failed to dematerialise fast enough when a piece of street furniture jumped into his path, leading to the year's umpteenth unplanned encounter between M. Kirkland and A. Road. He was still grinning, though.
I travelled light—for me, at any rate—on PBP, with just a lightweight Carradice saddle bag on a quick-release support and the world's largest top-tube bag. In the saddle bag I had, for some or all of the time, spare base layer and waist shorts (both changed in Brest), full-finger gloves, arm warmers, leg warmers, windproof top, lurid pink reflective gilet, Shakedry waterproof. I wore the same jersey for the whole ride (Eeeeew!). Also I had a lightweight Ottolock (never used), sun stuff, a small toilet bag with toothbrush, toothpaste, and bum cream. Plus a folding plug, power pack, multiway charging cable, charger for my watch, charger for the Gears of the Future. Head torch. Small travel towel. Spare tube for my tubeless tyres. Another spare tube, in case I ran over a family of hedgehogs. Tyre sealant. Superglue. Releasable zip ties. Teeny-tiny folding rucksack. Kitchen sink. But no insulated gilet, curse it.
Naturally, the contents of the saddle bag expanded as the ride went on (and on) and my enthusiasm for tidily packing stuff waned, along with my will to live. I'd anticipated this, and had colour-coordinated straps on top in order to lash down the inevitable overspill or emergency baguette.
The world's largest top tube bag contained caffeinated energy stuff, my pharmacopeia (mmm, drugs!), spare batteries for my Etrex GPS, a spare battery for the Gears of the Future, battery covers, plus the designated emergency food that had come along for the ride. I also had another top tube bag containing tyre levers, multitool, folding pliers, valve core remover, tyre patches, jabby emergency tyre gizmo, CO2 inflator and cartridges, and spare kitchen sink. "Two top tube bags? How can this be?" I hear you ask. The second bag was attached not to the top tube but to the rear of the seat post, beneath the saddle. Cunning verging on genius, I think you'll agree.
For the ride down, I strapped a 9-litre dry bag on top of the Carradice. This contained the customary array of comedy off-bike garments, chosen purely for light weight and compressibility, plus my ninja shoes. In case I needed to do any ninja-ing. You never know…
Memo to self for next time: The waist shorts were a mistake (see Chafing).
Sometimes on PBP when you're suffering a bad patch it can be handy to look around and tell yourself that, statistically, around three out of every four people you can see will finish the ride within time. So you only have to do better than, um, that rider over there who's developed a severe list and is trying to freewheel uphill with only one buttock in contact with the saddle. Fortunately when I was employing this mental trick I didn't know that my start group would go on to have the third-worst finish rate.
Probably my lowest point of the ride was the leg from Fougères to Villaines. It was uncomfortably hot, and the wind—surprise!—was being unhelpful. The road seemed hillier than it should have been, triggering a bout of hot foot. I came across an ambulance dealing with the aftermath of an incident involving a rider. By Lassay I lost the will to pedal and bought Ice Tea and a custard tart at a bakery on the shady side of the street. Even a shoeless pause in the shade didn't do much to cheer me up. Wincing and grumbling, I plodded on. Only to encounter a signpost pointing left to Villaines (only 12 kilometres! Sob!) where the route continued straight ahead.
Result: Slough of Despond. Or at any rate Maidenhead of Despond.
And while I'm kvetching, Mamers ought to have been Mortagne according to the advertised distances. Oh how I laughed when I saw the "Mortagne 24" sign in the middle of Mamers.
I was riding my Mason Aspect. It's just about perfect for a ride like PBP. Quick, responsive, and an amazingly plush ride. This has been a public service announcement.
Unfortunately Mr Stabby invited himself along on PBP. He'd turned up on a few of the qualifying rides, skewering me in the right knee at random intervals, but had been absent for a few weeks before PBP. I thought he'd gone for good, but it turned out he'd merely been sharpening his stiletto. He jabbed me several times during the morning before the start. Between yelping and writhing, I briefly considered becoming a DNS but instead tried to lull Mr Stabby with ibuprofen and a pre-departure beer. Maybe I could hide the cutlery?
Mr Stabby refrained from spikeological warfare during PBP itself, but not from messing with my head.
It had been 12 years since my last PBP, and it was striking how much more diverse the field was this time. Along the road I had mostly cheerful interactions with Indians, Japanese, Dutch, Americans, Québecois, Brits, Italians, Germans, Ukrainians, Russians, and French of course (though sadly they formed a smaller percentage of the riders now). Roadcraft was correspondingly diverse and sometimes bizarre—I particularly remember the black-clad rider on an unlit bike who stopped in the middle of the road during the first night to wait for his companions.
This, of course, is the traditional vow sworn at the end of PBP. Don't worry, it wears off.
Night one: Watch out for twitchy riding and testosterone poisoning. Enjoy the ribbons of tail lights snaking over the hills.
Night two: Mostly harmless, providing you can stay awake.
Night three: Everybody's knackered. Proceed with caution.
Night four: Avoid if possible. (Ha!) Otherwise make sure you've got your shovel.
By now I mostly know how my body is going to respond to a multi-day event—which bits are going to complain, and how vociferously. But occasionally there's something novel in the Complaints Department.
On PBP, for instance, my left wrist became sore and swollen between Fougères and Villaines. This might have been the result of overenthusiastic ringing of my bell (ooh er, missus).
Traditionally, big bunches are a feature of the first night of PBP. I was hoping to hitch a ride or two, especially given the headwind. But the bunches swooshed past at speeds that risked rousing Mr Stabby. Eventually I ended up accidentally creating my own peleton. Oh the irony—the would-be wheelsucker became a wheelsuckee.
There are a lot of queues on PBP. Top tip: Avoid joining them if you can. If there's a queue in the restaurant, try the snack bar. If there's a queue in the snack bar, find a cafe or bakery down the road. If there's a queue in that, look for another one or a roadside stall. If all else fails, consider eating that energy bar that's been lurking in the bottom of your bag since the first 200 qualifier. Then decide against it. Something will turn up.
During the 2007 PBP it rained on me a lot, to the point that I began to take it personally. The 2019 PBP redressed the balance. The rain on registration day and until lunchtime on the Sunday was unrelenting, but not a drop fell during my ride. For 2023, I'd appreciate it if the weather dogs could dial down the headwinds a bit and turn up the thermostat at night. Picky, me?
A big thumbs-up to Rambouillet as the start location. It feels properly French (unlike Saint-Quentin-en-Yvelines), it has interesting historic buildings (unlike Saint-Quentin-en-Yvelines), and it's not surrounded by soul-sucking suburbs (unlike Saint-Quentin-en-Yvelines). Maybe next time Rambouillet will even be aware that PBP is taking place.
Randonesia (n): The cognitive impairment caused by long-distance cycling.
From my PBP posts:
Tinténiac on the return: "Brief panic that I'd lost my phone. I'd put it in the pocket I never put it in…"
Fougères on the return: "Was emptying rubbish from my pockets when I was distracted by a guy falling off his bike. Then couldn't find my cap. It was in the bin."
The finish: "The photo shows part of the bike park. After two small beers (really) I couldn't find my bike. Then I found the bike but realised I'd lost the hotel keycards. I found the keycards but in the process lost the bike again.
"I'm off for a little lie down…"
I managed to find some gnarly off-road tracks on the way to Newhaven (Thank you, National Cycle Network. You shouldn't have. No, really, you shouldn't have). The ferry docked at stupid o'clock, so I didn't get much sleep. Lots of cafes were closed because it wasn't a public holiday but was the day after one so pretty much was (it's a French thing). So we ended up lunching in a kebab shop. Ooh la la. Mr Stabby showed up. We had to do the whole 200 or so kilometres in a day rather than splitting the journey. The wind blew in the wrong direction. I wasn't sure I was having fun. So it was probably good preparation for PBP.
We got the train back to the ferry after PBP, for some reason.
Gather round, young 'uns, while I tell you a tale… In the olden days we'd ride PBP on our quaint old bikes, with gas pipe frames, rod brakes, three gears if we were lucky, and no more than a cardboard box for a saddlebag (VC167: "Cardboard box? Luxury!"). On the way to Brest we'd pass many a roadside stall and make a mental note—with a mental quill on mental parchment, it being the olden days—of where they were, so we could stop there on the way back. But on the way back they weren't there. Cue gnashing of teeth and tearing of hair, for we had both teeth and hair in the olden days.
In this soft modern world, with its fancy-schmancy unobtainium quintuple-butted tubing, brakes that work without two weeks' notice in writing, Gears of the Future, and offensively lightweight luggage that doesn't double in weight then dissolve in the rain, there's roadside support the whole way. There and back. Round the clock.
Hrrrmph.
It's great.
On my first PBP, when dinosaurs roamed the earth, just about everybody complained about the arrows used to mark the route: Only the business end of the arrow was reflective, and it was an equilateral triangle so you couldn't tell which way the arrow was pointing at night. The 2019 arrows were exactly the same, but I didn't care because I was just following the line on my GPS. Well, I didn't care until Dreux, when I discovered that the route for the final stage had been changed in the week or so since I'd downloaded the official GPS tracks, so I was back to navigating by arrow. But it was all right, as it turned out, because by then I was beyond caring.
You need to be ready to suspend the usual requirements for self-care for the duration of PBP. It's all too easy to find yourself bumping up against control time limits until a late stage in the ride. There tend to be big queues for loos and washbasins, and taking a shower often involves a trek on foot. Hiking in cycling shoes is one of my favourite things, along with queueing for the loo.
I ended up in a soiled and frazzled state, festering and reeking as usual. The glamour of long-distance cycling!
I like my sleep, and if you've got some going spare I'll have that as well, thanks. I survived the first night on caffeinated energy powder, caffeine gels, and coffee. Hmm, bit of a theme there….
On PBP I had three lie-downs:
1—An hour and a half on the cardboard-covered floor of the restaurant in Carhaix. I was right by the wall (good) but on what turned out to be a heavily trafficked through route (bad). This was unrelaxing and—what's the word?—stupid. I knew this at the time but couldn't be arsed to do anything about it.
2—An hour and a half on an air bed in Quédillac because I was too chilled to continue to Tinténiac. Chilled frozen, not chilled laid back. This was proper sleep. The good stuff.
3—An indeterminate time flat on my back on a grass verge in a village before Mamers. I'd stopped to put on arm warmers and leg warmers but gravity got to me.
Apart from that, I got by on table sleeps, generally setting a 30-minute alarm on my watch, just in case. Some table sleeps worked out better than others:
The restaurant in Loudéac. I've found a quiet corner and hoovered up some calories. Now the table top is calling me. I slump into well-earned slumber. About a minute later a solitary Italian seats himself at the table behind me, followed by a whole crowd of solitary Italians, all talking simultaneously. Biscotti de culo, as Padre Gianetto said.
Arrival at a control meant an abrupt change of social gears. Between controls I was mostly on my own, with occasional bits of ride-by chit-chat. At controls I kept on bumping into people. Kevin Presland and Joolz Williams stalked me for chunks of the return from Brest. Members of the Audax Club Bristol massive popped up, often en masse. Mel and his grin materialised regularly.
It can be all too easy to lose your bike at controls on PBP. You arrive when a control is relatively quiet, then emerge after a bit to discover that a thousand riders have turned up, and you're no longer quite sure where you parked your bike, being no longer quite sure where you parked your brain.
Some people deal with this by attaching flags or soft toys prominently to their machines. I had a couple of bright orange straps on top of my saddle bag. But I also had a cunning plan. A technological plan…
I stashed a Tile in my bag—a lightweight electronic gizmo that will make a noise when you rouse it with an app on your phone. The app will also show you the location of the Tile. What could be handier?
Mortagne on the return: I lurch out of the control and try to remember where I parked the bike. There seem to be, I dunno, a thousand more bikes out there than there were when I arrived. A (dim) lightbulb goes on in the remnants of my mind. I extract my phone and ping the Tile. Nope, can't hear anything over the general hubbub. I look at the location map in the app, which tells me I'm within 50 metres of the Tile. Yep, knew that, given I'm in the middle of the bike park. I abandon technology and find the bike after a couple of minutes of random wandering.
I frequently ran across a Japanese rider who'd rigged up a small temple bell on his bike so it chimed gently as he rode along. This was oddly soothing. Which couldn't be said of another Japanese randonneur who was playing a Japanese version of French accordeon music through Bluetooth speakers as he pedalled.
Bells, whether temple or other, are handy on PBP. They're a way of acknowledging roadside support when you don't stop. And they're also—along with a shovel—an essential in dealing with the zombie apocalypse.
Mortagne on the return. It's not a huge climb or a particularly steep one, but it's at the end of a long stage towards the end of a long event so you tackle it with an empty stomach and empty legs. It's been an uphill battle every time.
Villaines during PBP is party central. It could show Magaluf a thing or two. Excited crowds, a booming PA system, throbbing music. It was all a bit much to take on the return, and I fled as soon as I'd inhaled the latest baguette and soup combo or whatever random assortment of calories my eyes had lit upon.
If you've only experienced Villaines during PBP, the non-PBP version of the town is bizarrely quiet. Where are all the people applauding you just because you're on a bike? Don't they know you're a cyclist?
I wore a smart watch on PBP. By the 1,000-kilometre point the watch was the smartest thing about me, by some margin. It was handy to be able to set a timer for table sleeps, and almost a pleasure to be woken by the watch tickling my wrist. You have to take your fun where you can find it on a long event.
PBP controls like to provide something extra as a challenge for the tired rider. There's always an elaborate chicane of railings with projecting feet on the final approach to food and rest. Some controls, like Carhaix, go that bit further and include a bit of cyclo cross or gravel.
If the approach to controls was often tricky, the approach to the finish meant running a gauntlet of camper vans, dogs, spectators, and jaywalkers, plus dazed cyclists heading in the other direction. There were too many things moving randomly across my path for my brain—or even my watch—to process. I tinged frantically with my sore wrist and hoped for the best.
The zombie apocalypse began between Mamers and Mortagne. With a sinking feeling, I realised I had no shovel (though I had two kitchen sinks, of course). As is well known, zombies come in two main forms: Fast and slow. Fortunately the PBP zombie is the slow sort. Also fortunately, I had few tasty brain cells left at this point, and I'm not sure the zombies could scent my smart watch.
PBP zombies fear ditches and tend to congregate in the middle of the road. It's hard to do a proper zombie lurch on a bike, but somehow they manage to. Pedal-pedal-freewheel-weave. Pedal-pedal-freewheel-veer.
Lacking a shovel, I would carefully assess riders ahead for signs of zombiedom, then ting as I prepared to overtake—zombies aren't keen on bells. If the zombie zigged, I would zag (and vice versa) and leg it down the road before a cry of "Brains!" could go up.
All went well until just before Dreux. An ACME rider on fixed had heroically towed me and a guy on a tall recumbent past many a ravening zombie horde. "Got to stop for a minute," he eventually croaked, and suddenly I was on my own. So who was that going pedal-pedal-freewheel-weave? Oh dear, that was me…